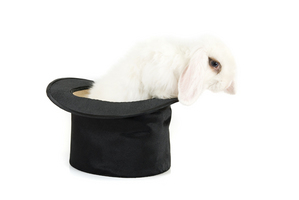 5 Apps Harry Houdini Would Have Bought for His Kids
Dramatic and mysterious, professional magician Harry Houdini began his career performing card tricks in museums, sideshows, and circuses, yet was best known for his sensational escape acts. Houdini went on to be known as the "Handcuff King" who could escape locks, shackles, straightjackets and more!
Times have certainly changed since Harry Houdini's death in 1926, but it's a safe bet that current technologies like computers and apps would have helped him improve his career even more. Magic and mystification are just as popular today as they were nearly 100 years ago.
Unlock Your Inner Houdini
Even though the thought of kids accidentally locking themselves out of the house is a huge concern for most parents, magic-loving children adore it when their parents help "release their inner Houdini" with these five fun apps:
Amazing Magic Match: Kids have been warned for decades to never play with matches, but this app is an exception to the rule. It gives them the ability to unlock the magician inside while wowing onlookers. Just pull a "match" from a digital matchbookin a puff of smoke. Abracadabra! It happens on your iPhone screen but looks just like the real thing.
iForce:A perfect conversation starter as well as a great way to impress the relatives, this app will have everyone asking "How did he do that?" Just open the app, ask someone a question, doodle what you think their answer will be on your iPhone display, and voila! iForce reads their mind and predicts the future. Houdini would be proud.
Magic Lesson: Available for both iPhone and iPad, Magic Lesson is just that—a video app that teaches magic tricks with added pictures and explanations. Get ready to grab the keys to your new social life, because you'll be the center of attention when you show off your mad magic skills.
Magic – Eye: There's no need to be a card shark or a mind reader when you have Magic – Eye because this impressive app does all the work for you. Ask a member of your audience to select the card of his or her choice on your iPhone and then "flip it over" so you can't see which card was chosen. Gaze at your onlookers and calmly announce the card that was selected—just like magic! It's a great icebreaker at kids' parties yet also entertains adults.
Marty's Magic Coin: This coin-in-phone magic trick is fun and simple to perform. Kids and adults can both do it with just a few minutes of practice. No need to pick the pocket of someone in your audience; just ask someone for a quarter. "Rub it" onto your iPhone screen, and alakazam! The coin is now "inside" your phone. Shake your iPhone and let the coin "fall back out." Everyone will be shaking their heads in disbelief while you keep your secret locked up and tucked away inside.
https://www.youtube.com/watch?v=rKGXeKdHytg
There you have it—five easy, entertaining apps to help your kids unlock their inner magician. Not only will they improve their hand-eye coordination and technology skills, they will interact with friends and family like never before, sharpen their social skills, and boost their self-esteem. Who would have ever thought apps could be a key to success?
Meg Jones enjoys her kids and writing about things that would interest them, including masters of escape from locks and prisons. She also writes about safety and security issues for a locksmith in Phoenix AZ.