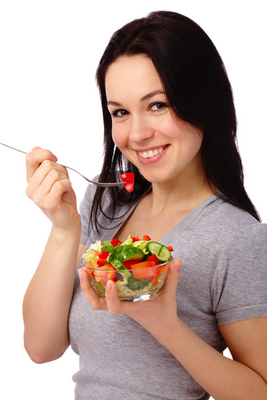 5 Apps To Help You Eat Healthier
Keeping track of your food intake and the amount of exercise you complete daily is an excellent way to maintain a healthy lifestyle. It is important to understand how many calories you consume and the nutritional information of everything you eat. It is also essential to be aware of how much physical activity it will take to burn any calories you consume each day. There are many apps available in iPhone, iPad and Android formats that will help anyone that wants to eat healthier.
My Fitness Pal
Knowledge is power and writing down everything consumed daily can help anyone eat healthy. This app is based on the concept of being aware of everything you eat and drink in order to lose weight. Users that keep a daily food diary through My Fitness Pal are able to see calories and nutritional information about food. This app allows you to scan your food items using barcodes. My Fitness Pal can predict a weight loss schedule according to what you are eating daily. Each time a food item is entered the app tells you how many calories are remaining to be consumed and how your calories have been spent. If your food is nutritionally lacking or if you have overindulged the app will let you know where to make adjustments.
Fooducate
Understanding food labels is difficult and manufacturers often create labels that the public cannot easily interpret. Fooducate allows users to scan barcodes of food items in order to explain the nutritional data of any food item using comprehensive definitions. If there is a disproportionate amount of sugar, fat or preservatives the app will let you know.
Lose It
The Lose It app allows users to track calories and share their success with peers. This app acknowledges the success of users and rewards them with badges at specific healthy milestones. This encourages users to keep succeeding by eating healthy and exercising. Users can share recipes with each other and trade healthy eating tips. Once you have entered food information or meal descriptions the app can save the data so the user does not have to enter it again. The Lose It app also provides functionality with Facebook and Twitter that allows individuals to share their progress, success and healthy suggestions with friends and family.
Pic Healthy
The Pic Healthy app combines social media, photography and the desire to eat healthier. Users take photos of what they are eating and share them with their friends. Friends vote on the user's photo and rate it as healthy or unhealthy. The app encourages nutritional honesty and motivates users to seek support from friends and family in finding the healthiest food options. It is a fun way to learn to live a healthy lifestyle. When the user has made an unhealthy food choice friends can make positive suggestions. When a user has made a healthy food choice friends cheer them on.
Weight Watchers Mobile
The Weight Watchers app allows users to track their meals and evaluate all food choices. Becoming a paid subscriber to the Weight Watchers program is an incentive because subscribers have access all of the features such as daily recipes, shopping lists, tips, articles, success stories and information about local meetings.
Jessica is an Events Planner with Trippas White Group in Sydney, Australia and a technology enthusiast. These are some of Jessicas favourite apps to help you stay healthy. For more information visit: www.trippaswhitegroup.com.au