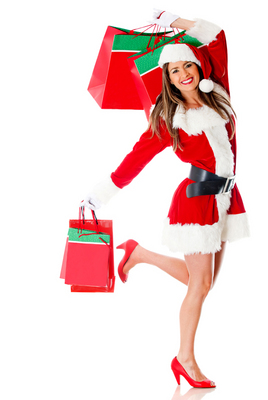 Best 5 Mobile Apps For Your Christmas Shopping
Where would you be without your time saving mobile phone? Totally stressed, I imagine! Your phone gives you the opportunity to not waste countless minutes, which could best be put to use navigating apps to help you do the Christmas shopping. This invaluable time saver will make you totally organized and give you some spare time to grab a few precious moments of relaxation in this crazy festive Christmas season.
MyList
Simply scan the bar code of any item and it will transfer the data where the information will be sorted into factors like price. You can also sync your list with family and friends in real sync time. Lists are automatically synchronized to a group account and can be shared with iPhone/iPad/iPod users. Your list can also be viewed on laptops, tablets or computers. This app also helps with ensuring you buy the correct brand. Best of all, this app is absolutely free!
AmazonMobile
Anything you want to buy, you can find on Amazon. This app allows you to use the bar code scanner to search Amazon and compare prices. Millions of products are available for purchase on Amazon Mobile and you can also read reviews from previous customers. For peace of mind, Amazon has secure servers in place.
ShopSavvy
As well as scanning the bar code to compare prices, this app not only gives you the best prices, but also provides you with exact directions on how to get to the store with the best prices. It will also create a price alert, which will notify you when the price drops on a product you are interested in. This app searches for the best prices online as well as in store.
MyChristmasGiftList
This handy app will have you totally organized well before Christmas. The shopping list will help you create lists of how much you want to spend, the presents you wish to buy and who you have to buy for. This app will make sure you stay within your budget. Use the QR code to scan bar codes which can be linked through web URLs, texts and emails.
eBayMobile
Can't find what you really want, take a look on eBay. There is so much for sale on eBay, this is a good app to find those hard to find gifts or quirky original presents for someone special. You can set reminder tabs and notification alerts to make sure you don't miss out on the item you have shown an interest in. For the last minute shoppers who don't have the time to bid on items, there're a large variety of products with 'but it now' offer too. It is so easy to organise Christmas on the run.
Too many people make Christmas shopping lists and then forget where they put them, or always leave the house without them. No one ever leaves the house without their mobile phone, so in this way, your Christmas list is always with you. You can have your photos on mugs printed on the go, or check retail prices online anytime when you're in the shops. Apps will allow you to tap into the largest marketplaces in the world.
Written by Tara Blair
It was almost as good as a dream come true for Tara when she got an offer as a full-time writer three years ago. Tara loves to share her passion on anything to do with DIY art and craft. When Tara is not writing you will most probably find her at her local yoga studio coaching fellow yogis.