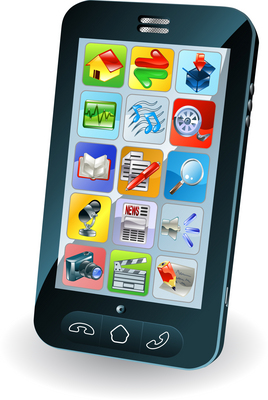 It's An App Life
The date of March 3rd 2012 isn't significant in itself but it witnessed one small event that tells a long story. An  Apple iPhone user called Chunli Fu, from Qingdao, China, downloaded app n° 25 billion in the history of the iPhone. In other words, it's as though every single person on planet Earth has downloaded just over 4 apps in recent years.
But which are the most popular iPhone apps ever? Fortune Magazine ran a survey in March 2012 and the results offer some surprises as well as some foregone conclusions.
It may be a surprise, albeit a not so surprising one: games are by far and away the most downloaded apps around. The n° 1 in paid apps is Rovio' brilliant touch game app, Angry Birds. Fruit Ninja is in slot n° 2 of the paid apps, and Doodle Jump holds bronze medal position.
Free apps tell another story: at n° 1 we find Facebook, quite obvious if you consider the over 800 million Facebook accounts on Earth. In second place in the free category is Pandora Radio, the music app. In case you're wondering about games, here's Words with Friends (free) in third place. So the free apps story is primarily one of networking, and it casts music as a highly sought-after leisure companion. Quite surprisingly, movies are far down the table.
Games dominate the next three positions in paid apps: the puzzle game Cut the Rope is in fourth place, Angry Birds Season is in at number five, Words with Friends (paid) in sixth. Again there is a strong lean on relational/informative apps in the free ranks from 4th to 6th: Skype, the Weather Channel and Google Search.
In the run down to number ten paid apps we find more games (Tiny Wings, Angry Birds Rio, Pocket God) and finally a non-game app in 10th place, Camera, which adds power to the existing camera feature of the iPhone. Free apps too follow the same pattern as before with Google Earth in 7th, then break it with a game, Angry Birds (free) in 8th, only to revert to another music app, Shazam, in 9th and finishing off with a first, Netflix, the first movie-related app to enter the top ten.
It makes an interesting comparison with the "page ranking" of apps in the Apple website. A look at https://www.apple.com/iphone/from-the-app-store/ shows that the company's marketing brains have a different set…or more simply they are keen to promote the in-house products. So if you scroll through the page you'll find that pride of place belongs to iMovie, iPhoto (with similarly-themed apps only just making the free apps top ten) and GarageBand, followed by Keynote, Pages and Numbers (formatting and spread-sheet generating tools, nowhere to be seen in the apps top ten), then iBooks, iTunes U and Cards, all designed for the bookish among iPhone users, and finally Podcasts, Find my iPhone and Remote.
Only after this remarkable selection the Apple masterminds think of roaming the world of "other" apps. They do so with a thumbnail display which lists apps by genre, in alphabetical order: Business, Education, Entertainment, Family & Kids, Finance, Food & Drink, Games, Health & Fitness, Lifestyle, Music, News, Photo & Video, Productivity, Social Networking, Sports, Travel. In other words, a taxonomy of all that passes as life in this turbulent day and age.
This post is written by Mark Jenkins and he works at CouponAudit as a writer, where thousands of valid and working online coupons for different stores are available including but not limited to diapers.com coupon code and various other online stores.