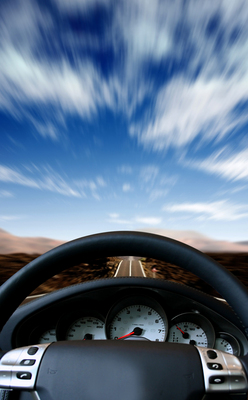 Top 5 Coolest Car Apps
Image by mroach
Whether you feel like saving on fuel or simply remembering where you parked your car last night before the six margarita haze; there's an app for that. Here's a lowdown of the handiest apps to keep your life and your motor running smoothly.
Find My Car iOS (free)
This app has been widely featured in consumer reviews as one of the most helpful and influential apps of the year. We've all had those evenings where we drive somewhere, park up, go out and get slightly the worse for wear then after spending the night at a friend's or in a skip; you inconveniently forget where you left your car. It's such a common problem, there's even a film about it.
Well worry no more! Because Find My Car uses GPS location services to help you find where you parked. You can even take a picture and write a short description to help you pinpoint the exact location of your beloved automobile. Move quickly, as the app is free for a limited time only.
Trapster iOS & Android (free)
If you're the type to go hurtling through speed traps without noticing you'll know it's a fine way to incur a hefty fine. As much fun as this can be, maybe try downloading Trapster. This is an app that uses thousands of trap and camera locations on its database to follow your route and pipe up audio alerts as to when and where you'll encounter hot zones. Around 14 million users worldwide use it from day to day, and presumably are much better drivers for it.
DriveGain iOS (free)
If you're looking to save yourself fuel then download this helpful little app! The on-point internal system offers audio and visual tips on how to conserve petrol based on your driving style and routine. The feedback is quite helpfully designed so as not to appear condescending, which is an excellent touch that means you won't be flinging your phone out of the window into oncoming traffic in a fit of rage.
CarChecker iOS (free)
A handy little app that checks the history of any vehicles you might potentially buy. Just enter the registration, and the database will come up with a list of prerequisites about where the car has been. The majority of the information is totally free, but you can of course upgrade if you wish to the gold package which will provide you with more of a background on your chosen motor. Can make the difference as to whether you take out long or short term insurance.
Jamcam Android (free)
This excellent application will allow you to view traffic camera images so that you can better assess your routes. The still images are refreshed once every five minutes giving you an up to date vision of what's going on out on the road. The advantage it provides is giving you a firsthand look at roads in England and Scotland which can give you more of a piece of mind knowing how the roads will look when you get out there.
Let us know your favourite vehicle-related apps by sharing through the comments below!
Attached Images:
James Duval is a tech enthusiast with a love of the great outdoors. He can't imagine life without his motorbike, and enjoys writing for Insure Daily in his spare time.