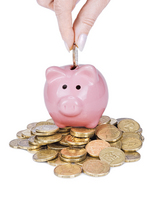 3 Apps to Help You Save Money
We are all looking for a way to save money. Whether it be on groceries, gas or anything that can keep an extra buck in our pocket. There are apps that are made just for this purpose. Since most of us never leave home without our cell phone, you always have your own moneymaker with you at all times. Here are a few apps you can use to keep a grip on some of that hard-earned cash.

Save Benjis 1.2.1
Save Benjis gives you an array of search features for saving money. This app helps the user to find the best deal on the products entered into the search field. You can search by category, keyword, or barcode. This is useful for searching sites, and it will maintain a history of your searches for up to 50 entries for later reference. The advanced search includes the manufacturer and part number. This will allow you to be specific with your search and get accurate results. There is an option to view a web page within Save Benjis' program or launch Safari. You can connect to Safari to buy immediately, or send a link to your email addresses.
The Coupon Sherpa
The Coupon Sherpa app will help you track down money-saving coupons everywhere you go. It is a mobile, money-saving tool. It is designed to help you find coupons while on-the-go. No matter where, even if you're already in the store, you can get a discount coupon and scan it right from your phone. You'll never miss another good deal with this shopping power right in your pocket. You can use paperless in-store coupons, where the savings are applied right when the cashier scans your phone or puts the code in. You don't need to print the coupon. Plus it is free.
CardStar
Cardstar will let you lighten your wallet by putting all of your plastic reward cards, loyalty cards, and membership cards "in" your phone. You will never miss a discount, reward or deal again. You can import your cards quickly and easily. Use you phone's camera to input all of the national and regional retailers, association and even library cards. You can find thousands of deals including daily deals, special offers, sales, card-linked offers and more, all from your favorite stores and places to shop. You can save grocery coupons to your card with no clipping. Get all of the deals when you want them. You will be able to have the cashier scan your cards right from your phone. Your information will always stay private with a passcode lock. You never have to worry about losing your cards or them being used by an unauthorized person.
These apps will give you a head start on keeping more of your hard-earned money in your pocket. Every penny counts, and if you can find a way to save some money, then you need to get in on it. Most of these apps are either free or cost very little and pay for themselves in the end.
Guest post contributed by Hayley Spencer for EasyFinance.com. Hayley is a freelance writer and a successful real estate investor. Her articles appear on various investment blogs. Click here to visit their website.