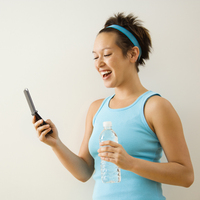 Best Apps for Getting Fit
Best Apps for Getting Fit
People's lives have drastically changed when smart phones and android tablets hit the market. Basically people are doing almost all their activities on their unit and these gadgets had been an integral part of their daily living.
The importance of smart phones and tablets has been very valuable and most people depend on these gadgets for a lot of things. Why not take advantage and maximize the capability of these devices and take it into a new level and use it as a valuable tool to achieve health and fitness.
There are so many apps for phones and other gadgets that are truly helpful in supporting the healthy living lifestyle. Apps that offer some exercises that you can do, monitor how'd you eat and can set up regular physical regimen, and a lot of other helpful stuff for fitness is available today, some you have to pay while some apps are accessible for free.
When choosing the apps for your fitness, you have to know your limitation in terms of your endurance level and what apps are applicable to your lifestyle. Assess your abilities and willingness to follow and dedicate time as well as effort into what app you choose. Be realistic in setting goals, this will keep you motivated and avoid failure.
Knowledge is Power: Fooducate Nutrition Scanner App (Android, iPhone)
This great app is one sure way to give you a good start in living a healthier lifestyle. Scanning your food stuff for its nutritional value isn't enough this app does more than just. It can provide you the details beyond nutrition facts such as if the vitamins are naturally derived or if the sodium level too high. The Fooducate Nutrition Scanner will give you related alternatives and lets you make a healthier choice.
Track Your Running Progress with MapMyRun App (Android)
This App will track your distance, pace, speed, caloric burn and route in real time via the GPS system. A route search feature lets you search for nearby locations to run. The routes are categorized by length, elevation graphs, type and leaderboards. Track your complete running progress and make your best time. This app has links to most popular social networking sites.
Know Your Body Through Tap & Track App (iPhone, iPad, iPod Touch)
The Tap & Track app is smart enough to make a comprehensive assessment on what types of food you can eat through your BMI, height, weight, body type and level of day to day activity. You will have to enter what food you are eating and your exercises and this app will graph your progress.
Personalized Training Program via GAIN Fitness App (iPhone)
This app will provide you- your very own personalized training workout. You get to choose what type of exercise regimen you want whether for weight loss, muscular improvement or for balanced health. This will be based and matched on the available equipment you have, the time you wishes to devote and your fitness level. Trainers will give guidance throughout your workout with their own voice with every reps, sets and rest period. This app will give you total support through each workout session just like having a personal trainer with you.
About the Author: Michelle is a writer for Natural Ketosis, a leading ketogenic diet specialist based in the UK.