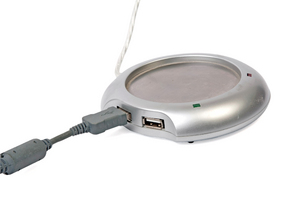 Who Needs Extra Clothes If You Have These 5 Gadgets To Keep You Warm?
It's not long now until the cold weather gets here and everyone is freezing cold. You could be stuck at work on a computer and even though you don't work outside it could still be a little cold. Perhaps your employer is trying to save some money this year and is happy for you to freeze to death. You could always wear a few extra sweaters, but you'll just look stupid.
There is another way to keep warm and it allows you to spend some money at the same time. Have you checked out the cool gadgets that allow you to stay warm no matter how cold it is outside? They're pretty nice and would definitely look good in the office. Nobody's going to make you stay cold if you don't let them. Here's some of the gadgets you might want to take a closer look at.
USB Heating Blanket
Who needs extra layers of sweaters when you can just drape a heating blanket over you? And it works by simply plugging into your computers USB port. You really can't get any easier than that. It's also easy to take off when you're getting too warm. Just unplug it and hang it on your chair so you have easy access to it if you get cold again. It's easy enough to wash once it gets too dirty, but just make sure you take out the heating pad first.
Cozy Foot Warmer Floormat
When you're wearing dress shoes it's not like you can put on some huge fluffy socks. Not unless you decide to buy shoes that are a few sizes too big for you. And we all know that cold feet isn't nice, in fact it's horrible. Now you only need to plug the Cozy Foot Warmer Floormat into your power socket and lie it at your feet. It will then keep your toes nice and toasty all day.
Thanko USB Warmer Cushion
I have no idea if you'll have any USB ports left, but if you do then you can step it up a notch with this cool little cushion that has a heat mat inside. You might also prefer this one if you don't want to drape the blanket over you. Just be careful when you're moving around in your chair in case to rip it out of the computer. Your USB port won't thank you and neither will your boss.
USB Warmer Mouse
We can be cold in a lot of places, but when your hands are too cold it's almost impossible to do any work. Just be thankful you don't work on a building site. When you work in an office you still actually need to get to work and if you walk there's still a chance your hands will be freezing when you get in. Use this lovely heated mouse and your hands will heat right up.
Warmmi USB Heating Mouse Pad
I suppose if you're going to use a heated mouse you might as well go the whole distance and use a heated mouse pad at the same time. This pad also comes with extra USB ports so you have plenty of room to plug in your heating gadgets. When you start to get too hot, which you will if you use all of them, you might want to start turning one off at a time.
The article is written by James Corris who is a tech blogger and owns a tech blogs through which he shares tech tips and tricks. He suggests Lowes, an online mens wear company to get best deal on corporate and work wear.