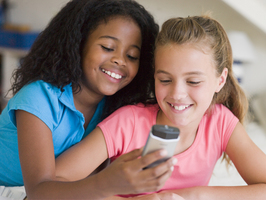 The Most Fun Yet Educational iPad Apps to Download for Your Kids
The Most Fun Yet Educational iPad Apps to Download for Your Kids
Thanks to the advanced developments in technology, kids today are born in a generation where playing with tablet computers are the norm. Even toddlers, preschool and school age kids sometimes know more about computers than their parents. This is definitely a good thing because having such technology at your disposal makes it easier for you as a parent to let your kids have fun while learning at the same time.
Top 5 Educational iPad Apps that Kids can Have Fun With
One of the most popular tools that parents use these days to teach their kids about almost anything is the iPad. This tablet computer developed by Apple has more than 250,000 downloadable apps, which you can use to teach your kids about certain subjects. Whether it's language, reading, math, science or any other subject, there should be an app that will make learning more fun for them.
To get you started, here are the top 5 fun yet educational iPad apps that you can download for your kids:
Barefoot World Atlas
Teaches kids about: Geography
What's good about downloading any iPad app is that kids can use motions with their fingers to easily control what's on the screen. Let's take the Barefoot World Atlas as an example. Here, a smooth 3D globe is displayed which helps teach kids about the different countries around the world. Kids use their fingers to zoom into a country. As they zoom in, real photographs and interesting facts about the country are displayed, so they will get more interested about the culture and what else they can see in other parts of the world.
Color Drops Free
Teaches kids about: Colors & Art
A high-tech alternative to a coloring book is the Color Drops Free app for the iPad. It lets your kid draw and color more than 200 images which fall under different categories. The colors have animated effects to keep young children interested.
iWrite Words
Teaches kids about: Handwriting
If you cannot get your son or daughter to write clearly on paper just yet, use the iWrite Words app. This helps improve their handwriting by using patterns that create each letter of the alphabet. Relevant, eye-catching images are displayed every time the player draws letters correctly.
Little Fox Music Box
Teaches kids about: Music
Made with beautiful, attention-grabbing artwork, the Little Fox Music Box app helps kids appreciate music. The Little Fox character plays songs which your kids can sing along to.
Noodle Words
Teaches kids about: Reading
If you want your child to turn into an English or literary whiz, download the Noodle Words app. Here, words are dramatized by animated characters which kids will have a lot of fun watching. Once the display screen is tapped, a new word will be shown and the animated character will demonstrate what it means. Rather than focusing on reading, it helps kids understand what words actually mean. This app works well with other apps that teach kids how words are spelled or read in the first place.
Whether it's geography, math, language, science or any other subject that you would like your child to master,
Matthew Young has written a number of articles on variety of topics. Refer the following link to read more topics: https://www.coloringpagesabc.com