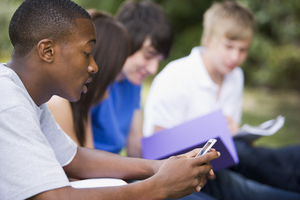 Top 5 Mobile Apps to Simplify a College Student's Life
There's nothing quite like being a college student. The independence, a combination of sleeping late and taking long naps, the freedom to tailor your own educational experience, and simply the best parties.
It's a lifestyle that's pretty hard to beat. That's why after a couple of monotonous years in "the real world" after college, I'm back in school for another degree. It sure beats eight hours a day in my old cubicle, but between studying, networking, exercising, partying, and extra- curricular activities, it can get pretty overwhelming. Thankfully, I'm armed with a smartphone with countless apps available to simplify my life this time around.
Here are the top 5 mobile apps that I couldn't imagine surviving college without:
1) iStudiez Pro
Don't let the application's obnoxious name deter you from giving this 99 cent app a try. As the name suggests, it's a scheduling program custom built for students. Keep track of your school schedule, exam dates, and never forget a homework assignment; it's all here in one well-designed app. It's loaded with other features like grade and GPA calculators and helpful push notifications. It effortlessly syncs with other devices.
There is also a free lite version, but 99 cents is less than a drop in the bucket when compared to things like the price of books. If you don't want to take my word for it, read through the hundreds of Apple store reviews giving iStudiez Pro 4.5 stars.

2) Dropbox
"Do you have a Dropbox?"
"I'll send my notes to your Dropbox."

I hear about this file sharing and backup application every single day at school. Our school even created a Dropbox account for each library computer account. After my first time fiddling around with Dropbox, I knew why it was so ubiquitous. The cloud-based service works with Android, iOS, and Blackberry mobile devices. It also supports MACs, PCs, Linux, and Kindle Fire.
If Dropbox hasn't caught on with your peers yet, convince them to sign up. The more people you get to sign up, the more free storage you'll receive.
3) Mint
The hardest part of transitioning back to college has been the lack of a steady paycheck. It forced me to create annoyingly specific budgets and figure out where all my money is disappearing to (usually cute co-eds at the bar).
Since I chose not to study finance for a reason, I'm grateful that Mint.com has a powerful app. Check your balances among different accounts all in one place and let Mint show you how you are spending your funds. You'll be marveling at how easily Mint can create colorful pie charts breaking down your spending into categories like groceries, gas, clothes, and entertainment.  And most importantly, it's free!
4) Graphing Calculator
For you artsy, wordy, liberal art types out there, one hard truth about college is that you'll have a hard time going four years without having to solve for X. Whether it is economics, statistics, or another math class, you will have to do some calculations and draw graphs. You can go old school and buy a big Texas Instrument graphing calculator, but now you can simply download a graphing calculator right on your mobile device.
In addition to saving yourself the hassle of loading up your backpack with yet another device, you'll save yourself a lot of money. Instead of spending over $100 on a separate calculator, try the "Graphing Calculator" iOS app by Appcylon for only $1.99. You can graph multiple equations and then share screenshots via email.
5) Study Blue Flashcards
Flashcards are never sexy, but they are one of the most important tools in a student's toolbox. With the StudyBlue Flashcards application, save yourself paper cuts and aching hands by going digital. Make your own flashcards or browse the millions of flashcards already available.
What is your favorite application to make academic life easier in college so you can spend more time on the important stuff, like partying?
About the Author: Porter is a tech geek. He loves staying up on all the new gadgets. When he isn't looking into the new upcoming tech he is a writer and content specialist for CenturyLinkQuote.