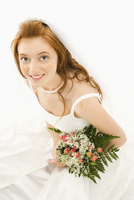 Top 5 Must Have Apps for Brides to Be
Wedding planning can be stressful and budget-breaking, but it shouldn't be. Planning your wedding, from the music to the flowers, the dress to the cake, the photos to the venue, should be as much about you as the day itself.
You want to plan your own wedding that personally reflects you and your partner, but you're worried about the stress of doing it yourself? Well, worry no longer. With these five apps, you'll be able to turn the whole process into a breeze.
The Knot Ultimate Wedding Planner
This is the ultimate, all-in-one app for wedding planner. Your personal and portable planner, it has everything from customised checklists, a budgeting tool, a scrap-book style database for all your favourite wedding links and pics, thousands of dresses, cakes, decor ideas and more. It even has a countdown to your big day.
Wedding Registry
This app provides a hassle free approach to creating a registry that can be accessed by your family and friends anywhere in the world. Rather than creating a separate registry at each store, you can combine everything into one database through the app, where guests can access it anytime.
It has a barcode scanner so you can add items from any store, or from websites, categorises entries automatically, and updates the registry whenever an item is added or purchased by a guest.
FunWedding
This one's all about the music. FunWedding provides you with a list of the top most requested songs at wedding receptions all over the world, the top 100 songs of each decade, and even the top songs to avoid. It also provides suggestions for each stage of the wedding, for example: the first dance, the cake cutting or the garter toss. You can listen to song samples, create song lists and even search for bands and DJs.
Brides Wedding Genius 2.0
Brides magazine has released the ultimate inspiration and ideas app for future brides. This app allows you to browse through almost limitless dresses, jewellery, honeymoon destinations, local resources and more. You can browse by price, brand, style, even silhouette, depending on what category you're searching for. You can then keep all your favourites in the digital binder.
Wedding Budget
This free app makes it easy to keep track of all your wedding expenses, down to the tiniest detail. It allows you to break down your wedding budget into different categories and keep an eye on every cost. You can adjust your budget as you get closer to the date, and the app will give you alerts when you go over budget in any area. It also provides graphical representations of your budget.
No matter what your budget, your big day is probably going to require a fair bit of saving to make sure that you have the ceremony and reception that you want. Keep in mind that you should also have the security of additional funds to act as a buffer should anything go wrong, so you can safeguard against any mishaps throwing your wedding into disarray.
It's a good idea to start saving as soon as you can, so you don't feel so stretched in the lead-up. Try setting a budget, keeping track of your spending, and if you've got any debts chewing away at your savings, why not contact a financial service like Fox Symes who can help you with learning how to consolidate loans, get your debt under control, tailor a budget to suit you, and help you kick-start the process to growing your bank account in time for the nuptials.
The planning process should be fun and memorable, so with a handle on your finances and these handy apps in your pocket, the stress melt away and you can cruise toward your big day in your own personal style. Just remember, all you've got to do is enjoy it.