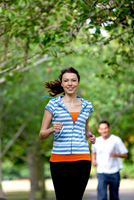 Top Three Apps Every Runner Should Use
It may seem silly to have an app specifically for when you run. I mean, when you run you put one foot in front of the other and go for it, right? Well, as absurd as the idea seems, there are actually a lot of apps out there to help runners optimise their performance. From tracking how far you've run to GPS software to help you calculate your route, from the paid to the free, this is a breakdown of the top three apps every runner should own.


Nike+ Running– Well, the clue is in the title. This is the most popular running app on iTunes and it's not hard to see why. Whether you're running cross country or on the treadmill, this app will accurately record your distance, pace and time using your phone's built in GPS. The audio feedback will alert you of your progress at every mile, so there's no need to stop and check. If you have a song that motivates you for your run, set up Powersongs to give you that much needed boost at the tap of a button. For extra motivation, you can link the app with your Facebook profile and when you broadcast that you're going running, your friends and family can cheer you on. Seriously, if there's one app you take away from this article, this is it. Nike has hit the nail on the head.
Price: Free.
Available from: The Apple app store and Android marketplace.
Running For Weight Loss Pro– Despite the title, this isn't just for if you want to lose weight. If you want to get back into running after an injury or a break, this is perfect for you. It has a dedicated in-app training programme which allows you to set your goals over a two month period. You can set it to interval training of walking, running and sprinting depending on how intense you want your workout. There are also GPS running maps, audio instructions to the training and detailed statistics. You can also access your playlist to keep you going. Plus, you can also find lots of motivational tips and nutritional advice. An all round great app, whether you want to lose weight or not.
Price: £2.49 (App Store)
Available from: Apple app store.
Run With Map My Run– Some aspects of this app are similar to Nike+ Running but its main selling point is the online community. Within the online community, you can find new routes in your area, join sponsored challenges and win prizes and connect with thousands of other like-minded people. The actual app features are standard: GPS tracking, distance and pace calculation and real-time stats, but there's also extras like tracking your heart rate and the ability to answer calls whilst still tracking. If you're still not sold, take a look at the reviews and see for yourself.
Price– Free
Available from: Apple app store.
So there you have it, three apps for getting the most out of your run. So, what are you still waiting for? If you don't have an iPhone, check out Orange's latest deals by calling Orange customer services and get running today!
Leila Jones is a guest blogger, full time student and content writer. She enjoys writing, music, technology and fashion.